Pre-pay and save money!
Did you know if you pay for 3 months at once you save 5%. 6 months gives you 10% discount, 9 months gives you 15% discount and 12 months gives you 20% discount. To change your billing cycle please open a ticket.
Virtual Private Servers
Now Hybrid VPS!
2 GB ECC Memory
Guaranteed
Add more for €2.50 per 1 GB
1 CPU Core
Guaranteed
Add more for €10 per core
50 GB Solid State Disk
Add more for €5 per 25 GB
Unmetered 25 Mbps Bandwidth
Add more for €100 per 25 Mbps
VPS Features
Instant Activation
1 IPv4 Address
/64 IPv6 Address Block
DDOS Protected Network
Redundant Power
Keyboard, Video & Mouse over IP
Instant Reboots & Reinstalls
IPv4 & IPv6 Dual Stack
KVM Virtualization
Quick in-house support

Templates

Archlinux


Centos 6


CentOS 7
CoreOS


Debian 7


Debian 8


Ubuntu 14.04 LTS


Windows Server 2008 R2 Standard*


Windows Server 2012 R2 Standard*


Windows 7 Professional*


Windows 8.1 Pro*


Windows 10 Pro*
* License not included.
---
Advanced Optional Features
Snapshot backup
€10 setup per snapshot
High Availability
€50 per month
---
Control Panel

Our control panel gives you full management access to your virtual server.
- Install Operating Systems
- Power Control
- Console Screenshot
- Keyboard, Video & Mouse over IP (VNC)
- Create Snapshots
- Task Log
- Instance Uptime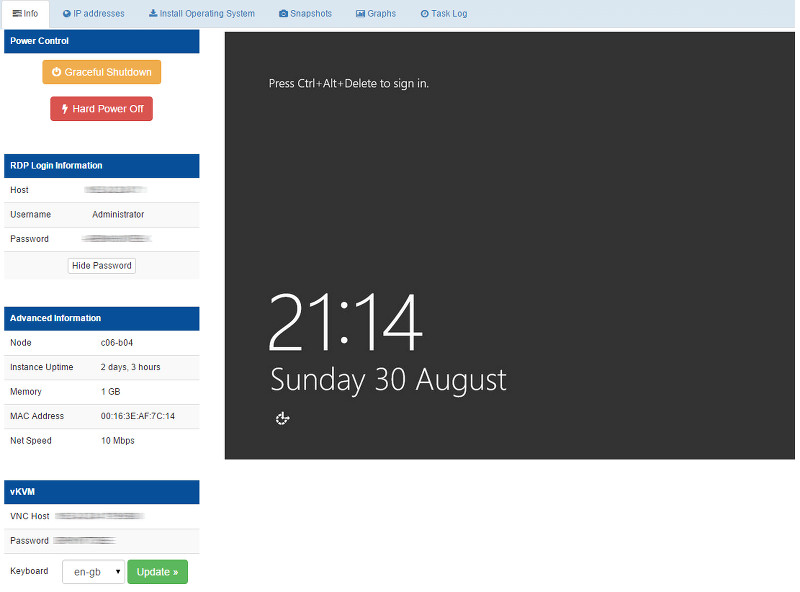 ---
Accepted Payment Methods